Since the beginning of time gold, silver, copper, platinum and palladium have been renowned as valuable, the reason for their high value is due to their rarity. They are expensive and difficult to mine and appreciated by industries and investors alike.
In today's trading world it is possible to gain profits from a commodity, such as gold without having to physically own the metal.
At AvaTrade you can trade gold, platinum and other precious metals online, easily and seamlessly. Try metals trading with the leading regulated broker and enjoy the following benefits.
Trade gold, platinum, silver & copper with competitive spreads
Make bigger trades with leverage of up to 200:1
Choose between AvaTradeAct & MetaTrader 4 platforms
Trade whichever way you think the market will go – long or short
Access the markets while you're on the move with our mobile apps
Get 24/5 live client support in your language
Start trading the dynamic precious metal markets with AvaTrade and get a welcome bonus of up to $10,000.
Trade Other Metals with AvaTrade
AvaTrade offers a range of other metals to trade:
These markets tend to be less liquid, and therefore less volatile, than the gold market which means trading hours are shorter. However, they do offer more stability than gold, which means they are often used as an alternative investment when markets are volatile.
Factors Influencing Gold and Precious Metal Trading
The trade of this precious metal is interwoven with that of the trade of currencies, and with the financial markets in general.
Several different factors come into play when analysing the movement of the Gold price:
Supply – can be affected by decline in yields, political instability and the discovery of new seams
Demand – mainly comes from jewelry and use in technological products
Market Volatility – Gold has often been used as a safe haven investment when markets are unpredictable
An example of a period of market volatility
The 2008 economic crisis related to growth in gold value, topping $1,400 in 2010. The crisis began in October 2008 where all markets Gold included endured a downward spiral as a result of the credit markets being seized up.
Gold was being sold in vast amounts by investors who were looking to cover their losses in other markets. Eventually the United States government started to work on a bailout plan amounted to $700 billion. The cash injection allowed the markets to recover however personal losses were felt in areas on interest rates and mortgage payments.
A graph illustrating the above example: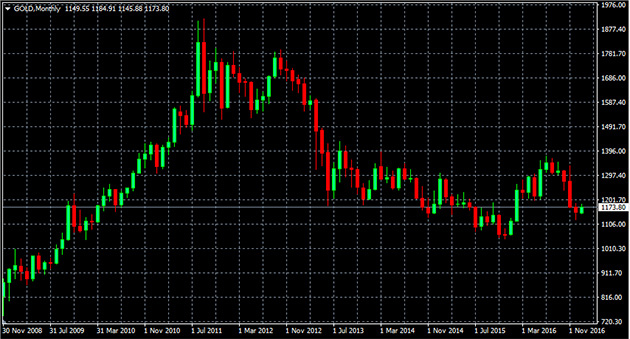 As a client of AvaTrade you will receive regular market reports and live, streaming news updates as well as all the analysis of the latest moves in the metals markets.
How AvaTrade Can Help
Join AvaTrade for as little as $100 and start trading gold and other metals today. Not only can you earn a sign-up bonus of up to $10,000, depending on your initial deposit, but you'll get access to a range of advantages and benefits that are exclusive to AvaTrade clients.
We offer a range of intuitive and customizable platforms, including automated trading solutions, so you're guaranteed to find the trading environment that suits your style. You can trade gold and other commodities on the same screen as your forex trades, buy and sell directly from live charts, and set stops and limits in order to protect your capital.
AvaTrade also offers award-winning customer support, in more than 15 languages, whenever the markets are open.
Gold Trading & Forex
Gold trading on AvaTrade is easy to understand, especially if you've already gained some experience of the forex market. Gold units are measured in Troy Ounces against a currency – usually the dollar – in a similar way to a Forex currency pair.
Get started in gold trading with AvaTrade and you could receive a new client bonus of up to $10,000.