Trade Under Fire – The EU's precarious balancing act
EU Trade Balance – Tuesday June 18 at 09:00 AM GMT
The US-China Trade War is likely to benefit the European Union to the tune of $70bn (UNCTAD), that is, unless the Union gives in to US pressures. Last year, the US imposed tariffs on European steel and aluminum exports, with cars and agriculture the next on the block. And during his last visit to the UK, Trump promised the UK a special post-Brexit trade relationship.
During the first quarter of 2019, the EU's surplus with the US declined while its deficit with China widened, this as European exporters find themselves more and more reliant on China's still-6.6% growing GDP. Add to that increasing energy imports from Russia and Norway, and the zone's trade balance could be headed towards a downward incline.
Although the data across the board is mainly positive, sentiment indicators are gradually going south – primarily on the backs of geo-political uncertainties and a seemingly unravelling globalization.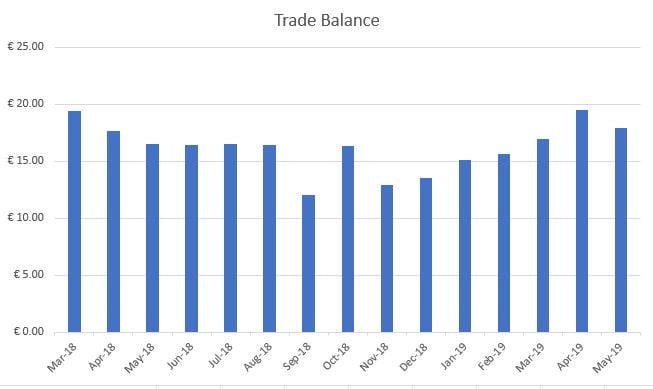 last Wednesday, ECB President Mario Draghi admitted that global trade was facing headwinds at an ECB conference targeting Eastern and South Eastern European countries – those more reliant upon EU development funds, and those whose belts he would soon need to tighten. And, indeed, although April showed a €19.5 bn surplus – the pinnacle of a steep one-year uptrend – this month, analysts expect a €2 bn downgrade.
Clearly, traders will be jubilant if Tuesday's reading provides a reprieve; the question is, is a drop in the data already priced into the Euro?