Dow Jones Futures Today
The Dow Jones futures are trading lower by 35 points today. In terms of economic data, investors will be looking at the Fed meeting. This is the most important event of the day and the Fed is expected to provide further forward guidance. In addition to this, we also have US core retail sales data. The forecast for the data is -0.3%, while the previous reading was at 0.3%.
The Dow Jones futures are still very much consolidating on the daily time frame. Bulls are holding the control of the price and that is the main focus among traders. The Dow Jones volatility has dropped as the price is trading within a Bollinger Band. As long as the price continues to trade above the 50, 100 and 200-day SMA, the bull trend is likely to continue. In terms of support and resistance, the nearest support is at 28462 and the resistance is at 32,000.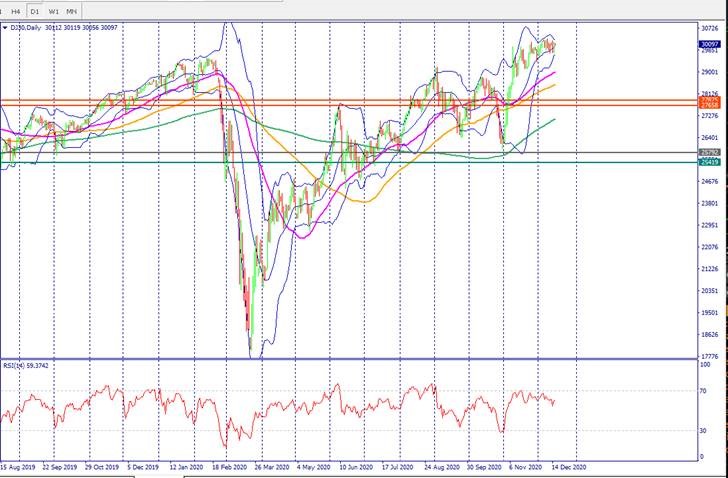 The S&P 500 futures, which represent the wider stock market, logged a massive bull candle on the daily time frame. On the intra-day time frame, such as the 30-minute time frame, we are seeing bulls gathering enormous strength. This is because the price has not only crossed above the 50-day SMA but the same moving average is also trading above the 100-day SMA. The near terms support is at 3665 and resistance is at 3800.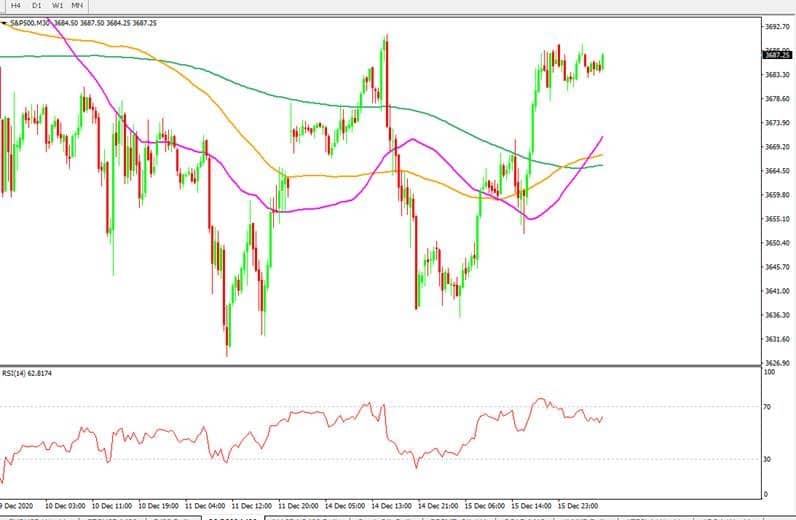 Stock Market Rally
The S&P 500 stock index recorded gains yesterday; the index advanced 1.29%. The energy sector led the index higher- all the 11 sectors closed higher.
The Dow indexalso moved higher yesterday; the Dow stocks moved the index higher by 1.13%. Twenty-five shares advanced while five shares closed lower.
The NASDAQ composite, a tech-savvy index, closed higher by 1.07% yesterday.
S&P 500 Leaders and Laggards: Wynn Resort and Apartment Investment and Management Co
Wynn Resort stock contributed the biggest gain, soaring 6.1%. Apartment Investment and Management Co was the largest drag; it fell by 7.9%. The S&P 500 stock index is up 9.9% so far this year.
Dow Jones Leaders and Laggards: Apple and Salesforce
Apple stock provided the biggest help for the Dow Jones; it advanced by 5.01%, while Salesforce stock was the largest decliner, it fell by 0.51%.
Bitcoin
The crypto king has gained its momentum today and it is moving higher. The Bitcoin price needs to break above the 19,562 price level in order for the upward trend to continue.