What is Bitcoin
Bitcoin has made quite a name for itself since it was launched in 2009. The idea behind Bitcoin is what really shook up the investing world, in the same way the internet had shaken up smart computing. A digital currency that would be anonymous for its holder, unmanned by third parties like central banks, and offering a way for the unbanked to send money globally in minutes.
As a digital currency, you can speculate on the price movements of Bitcoin against a fiat currency like the dollar, in the same way as you can speculate on the price movements of the euro against the dollar, for instance. This means that rather than buying Bitcoin directly and being susceptible to its highly volatile price spikes, you can actually trade it when it both rises or falls in price, as CFDs.
We offer you the ability to trade Bitcoin on both the MetaTrader 4 and MetaTrader 5 platforms, where you can trade it against the US Dollar, and other currencies 24/7.
How to Trade Bitcoin CFDs in 3 Easy Steps
Open a trading account with AvaTrade
Fund your account
BUY Bitcoin (go long) or SELL it (go short)
AvaTrade is an industry-leading broker, with some of the most competitive conditions available, including very low Crypto spreads.
Want to join the vibrant Bitcoin Market? Open a trading account with AvaTrade now!
Why Trade Bitcoin with AvaTrade
Uncompromised Safety – We fall under the authorisation of 7 regulatory bodies, and segregate our client accounts, meaning we comply with the highest level of safety protocol.
Many Cryptos to Choose From – Choose from a selection of leading Cryptos to trade on our robust trading platforms.
No Hidden Fees – We offer zero commissions when trading Crypto CFDs and no bank fees on transactions!
Bitcoin Never Goes to Sleep – AvaTrade is one of the few brokers to offer around-the-clock service and support in 14 languages.
Generous Leverage – Increase your initial capital with generous leverage of and get far more exposure to trade than your account's balance.
Limit Your Risk – You can preset profit and loss levels by using stop loss or take profit limits when you trade. Determine the maximum amount you are prepared to risk when speculating on the price, or set a price at which you want to take profit. Future orders like Buy Stops and Buy Limits are also available.
Trade Cryptos Against Fiat Currencies – Unlike many exchanges out there, who are restricting their clients to trade only Crypto to Crypto, our clients can trade Cryptos against Fiat currencies (USD, EUR, JPY etc.), as well.
Bitcoin's Rise to Prominence
Around 2008, Satoshi Nakamoto founded the first-ever Cryptocurrency, Bitcoin a truly groundbreaking invention.
The first Bitcoin software client was released in 2009, and Nakamoto collaborated with many other developers on the open-source team, never revealing his true identity. By 2011, the enigmatic Bitcoin founder had disappeared. His peers then, understood how valuable this Cryptocurrency was and worked feverishly to develop it to its maximum potential.
By October 2009, the world's first Bitcoin exchange was established, and by November of that year 4 million Bitcoins had been 'mined'. At the time, $1 was the equivalent of 1,309 Bitcoin – a fraction of a penny. Considering how widely Bitcoin fluctuates, that was a real steal: it hit the $10,000 mark within eight years.
And so, the meteoric rise of Bitcoin had begun…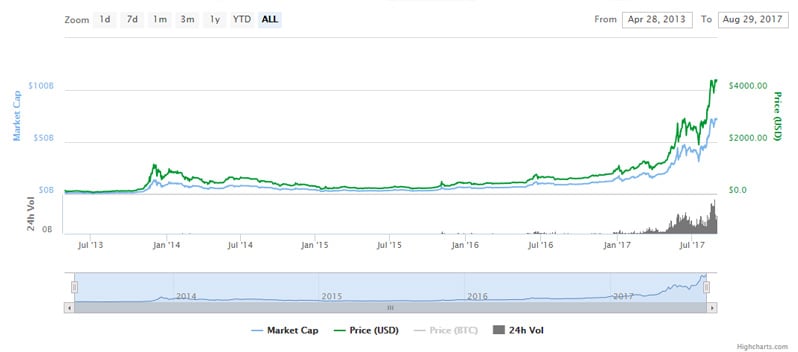 Source: https://coinmarketcap.com/currencies/bitcoin/
Open a trading account with AvaTrade today and start trading Bitcoin easily and securely!
The maximum accumulated position size for Bitcoin is 100 BTCUSD (10 LOTS), details in our Conditions and Charges page.
How Did Bitcoin Become so Popular?
Bitcoin was the first digital currency to be created. It is also the most respected, well capitalised and highly traded Cryptocurrency in the world. Cryptocurrency trading allows for maximum yield when it is volatile, due to its many ups and downs. This is precisely the reason global traders enjoy Bitcoin trading.
The media plays a big part in Bitcoin's volatility. Whenever a breaking story surfaces, Bitcoin starts to fluctuate and traders have the opportunity to cash in. History has shown that Bitcoin traders and speculators routinely push this digital currency to the forefront of CFD trading.
It is increasingly being used as the preferred payment option for merchants, money transfers and trading purposes. Bitcoin enjoys widespread popularity as a financial trading instrument, despite no association with governments or central banks.
Bitcoins are mined using powerful computer hardware and software. A maximum of 21 million Bitcoin will be available, after which no further bitcoins will be produced. The algorithm that governs the production of Bitcoin limits the quantity to be produced, and the rate at which they will be produced. It is a finite commodity – there is a fixed amount, and that ensures that greater demand will always prop up the price. In this way, it is similar to other finite commodities such as crude oil, silver, or gold.
Bitcoin in the News
November 2012 – WordPress started accepting bitcoins
November 28ᵗʰ 2012 – First Halving Event took place. This is where the amount of mined Bitcoins was halved, causing half the rewards for miners, for performing the same amount of work. It also prompted an increase in the price of Bitcoin over time.
July 2013 – Launching of a joint project in Kenya, linking bitcoin with M-Pesa, a popular East African mobile payments system.
September 2014 – TeraExchange, LLC, received approval from the U.S. Commodity Futures Trading Commission to begin listing an over-the-counter swap product based on the price of a bitcoin, marking the first time a U.S. regulatory agency approved a bitcoin financial product.
March 2016 – The Cabinet of Japan recognised virtual currencies like bitcoin as having a function similar to real money.
July 9ᵗʰ 2016 – Second halving event
August 1, 2017 – First fork in Bitcoin was created: Bitcoin Cash
October 24, 2017 – The second fork in Bitcoin was created: Bitcoin Gold
December 10, 2017 – Cboe Futures Exchange (CFE) starts offering Bitcoin futures trading
December 28, 2017 – Third fork in Bitcoin created: New coin on SegWit2x chain called B2X
May 11ᵗʰ 2020 – Third Bitcoin Halving Event
Expected 2024 – Fourth Bitcoin Halving Event
Need Help Trading Bitcoin?
AvaTrade offers you the opportunity to BUY (go long) or SELL (go short) on all Bitcoin trades. This service is available to you 24/7. You can use your preferred trading strategies to buy or sell Bitcoin CFDs regardless of which way the currency is moving.
We encourage you to learn more about Bitcoin trading by visiting our Trading Conditions & Charges page.
Please note: The Cryptocurrency market's high volatility can offer ongoing trading opportunities.
Due to price fluctuation, certain Crypto pairs may be suspended and/or removed from our trading platforms periodically.
When trading with AvaTrade you are trading on the price changes of the digital coin, and not physically purchasing it.