Trading Signals Guide
Trading platforms tutorials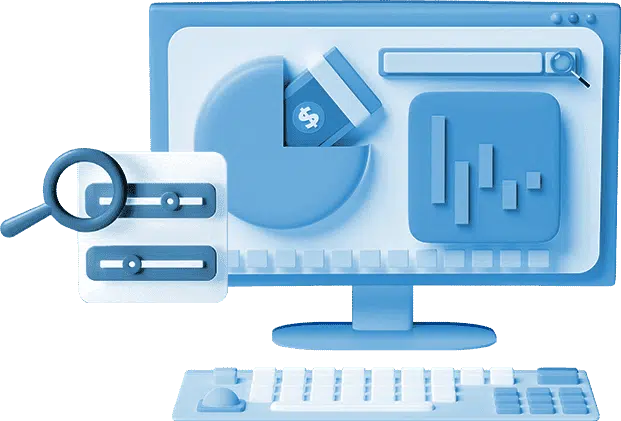 Revolutionising Your Trading With AvaTrade's High Probability Trading Signals
Introducing a brand-new feature that enhances your trading experience – 'Trading Signals' on our AvaTrade WebTrader and award-winning AvaTradeGo platforms.
Our innovative Trading Signals feature helps you identify trading opportunities effortlessly. Our signals, highlighted by an easy-to-spot icon, provide quick, pertinent data, so you're always ready to seize the moment.

These signals are not just arrows pointing up or down – they are backed by detailed analysis with a clear explanation of the logic behind the signal.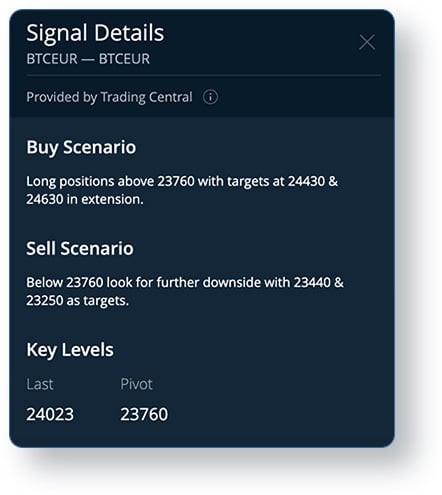 When you click on a signal icon, a window pops up, giving you insights into the asset to trade, when the signal was generated, the suggested trade direction, current price, and potential scenarios for both buy and sell conditions. You don't have to take the recommended trade direction, as there is also a scenario with key levels for the other direction too. Key levels are predetermined targets or price levels automatically identified by the signal provider.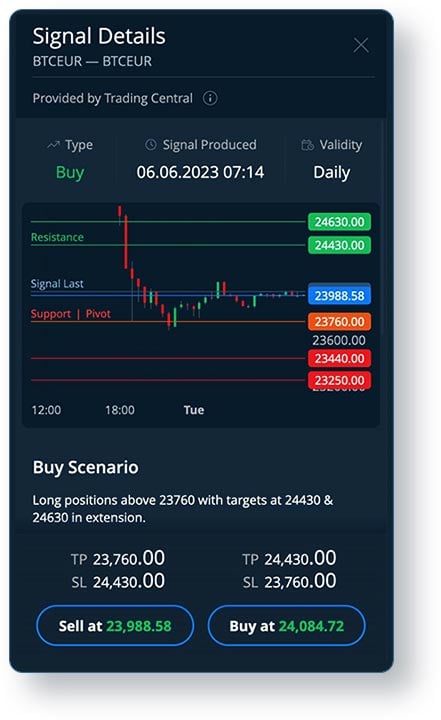 This rich detail, including the three target levels for each scenario, helps you understand the possible trend . This simplifies decision-making. Moreover, the signal window clearly displays the current asset price in relation to key levels (resistance and support), giving you an edge while analysing market conditions.
When you are looking at the signal, you need to decide which direction to trade upon the current market state e.g. BUY trade or SELL trade. Below you can see a BUY suggestion with the current price, marked in blue, between the first level of resistance, the green line, and above the orange pivot line which is the support level.
Since this is a signal for a buy, and the market didn't breach any of the key levels, as long as the asset price stays above the pivot line, the BUY signal is relevant, and if it crosses below the pivot line, you might consider using the second scenario and selling the asset.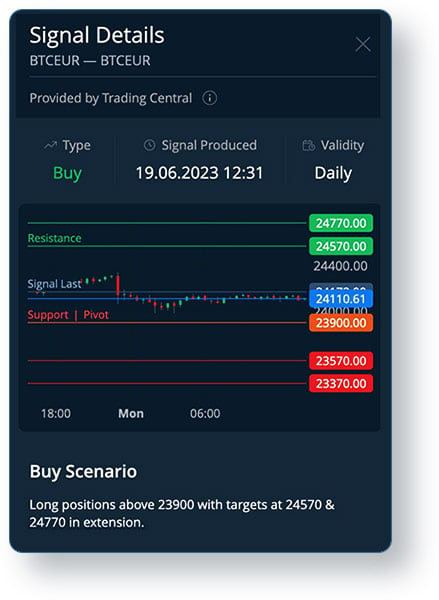 Don't worry about forgetting to set your take/profit or stop/loss – the signal recommendation automatically includes these crucial details, which you can adjust per your trading strategy.
Let's look at another example, a BUY signal. But this time, the message indicates that the market has already reached a key level which means the signal has been executed at least once. The current price is above the first key level, so the price could continue to increase.
However, the trader must decide if they want to enter the position. Remember, it's always your call whether to enter a position or not. The signal is merely a recommendation that is based on real-time data and algorithmic pattern identification.
Our AvaTradeGo platform seamlessly integrates these signals too, ensuring you have the same valuable data at your fingertips, no matter where you trade.
We believe these intuitive Trading Signals will empower you to make confident, well-informed trading decisions. So, dive in and experience the difference!
Test out our signals now!