AvaSocial - taking social trading
to the next level
Use the AvaSocial app to learn from the world's best experts, before making your move. Connect with your peers and automate your trades. Perfect for both beginners and advanced.
An App for All Levels
AvaSocial is perfect whether you are a beginner or an experienced trader. Novice traders can gain exposure to the markets while learning! Shorten the learning curve by following expert traders who can provide valuable insight. Experienced traders can save time by getting a clear view of the market, without having to perform daily research. Broaden your horizon by gaining exposure to assets you don't normally trade. Automate your trades and step away from your terminal; feeling confident in the strategies you are following.
The Latest Innovation in Social Trading
AvaSocial sets a new standard in social trading technology. With the AvaSocial mobile app, you can follow, and copy the trades of the very best traders. Use the wisdom of the experts, ask questions to your mentors or groups, and discover new and powerful strategies.
Simply put- with AvaSocial, you will never trade alone again. AvaSocial is offered in partnership with FCA regulated Pelican Trading.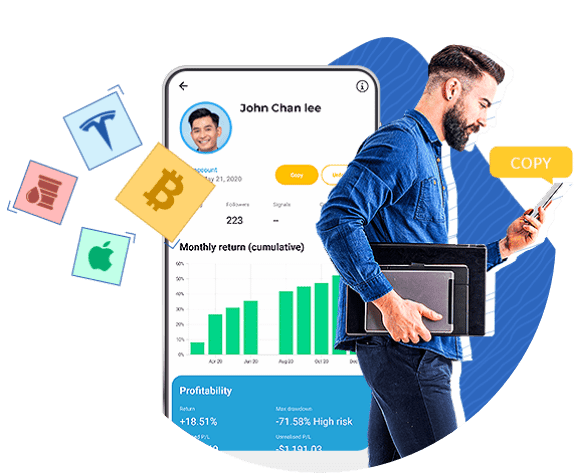 Copy Trading Made Simple Easily discover the most successful traders and qualified mentors, ask them questions 1-on-1 or in a group chat, then copy their trades with a tap.

Learn to Trade with The Best
Enjoy your own transparent network of like-minded traders, chat with friends and receive direct access to market opportunities all while staying one step ahead of the herd.
Real-Time Trading Signals
Receive continuous real-time updates about your friends and experienced traders on your newsfeed, see what they're doing, then comment, share, like a trade or simply copy trading signals.
A New Way to Share Your Best Trades
Want to increase your following or just proud of a big win? AvaSocial lets you celebrate your success with an image you can post across your entire social media network, including Facebook, Instagram and Twitter.
Earn Awards for The Trades You Do Everyday
Whether you close a big profit, use social features on the app or enjoy a winning streak, you'll receive special awards to fill your digital trophy case and show others how far you've come.
Hundreds of Markets- 24/7
Trade with friends, stay motivated, get inspired. Rethink the way you trade forex, indices, commodities, shares and crypto by communicating with other traders in a truly pioneering 24/7 trading environment.


More Advantages with AvaSocial

Question other traders, challenge or inverse your friends' positions
Find, follow, join or even create your own trading networks and grow your trusted community
AvaSocial in partnership with Pelican Trading is fully regulated to allow traders to sell their own trading signals and charge others for group access


Set Up AvaSocial In Minutes

Download AvaSocial
Create your social account
Enter your MT4 login details
Tell us in what asset you are interested in (FCA requirement)
Fund your AvaSocial account
Start copying


Ready to Join Something Truly Revolutionary? Connect to AvaSocial, capitalise on the success of your network and get in the midst of the market as you've never experienced before. It pays to be social with AvaSocial!
* Pelican Exchange Limited is an Appointed Representative of London and Eastern LLP which is authorised and regulated by the Financial Conduct Authority ("FCA") with respective FCA registration numbers 739090 and 534484