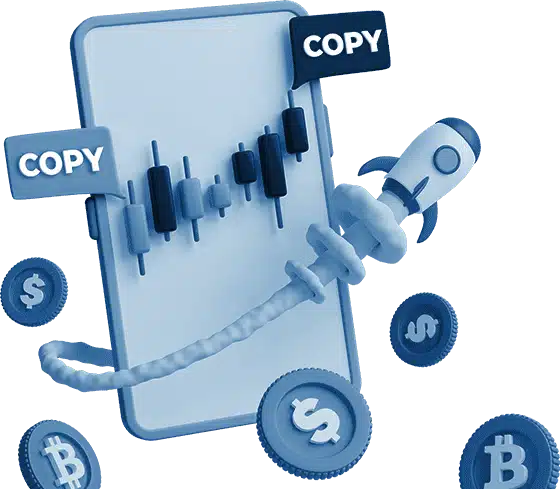 If you want to open a Copy trading account, simply click on the button below. If you want to learn more about Copy trading, read the full article.
Join AvaTrade and enjoy the benefits of trading with a regulated broker!
What is Copy Trading
Copy trading is a way to automate your trading by copying the trades of other traders. It is often used by newbies that might not yet know how to trade, with the added benefit of helping to teach them on the way. For more experienced traders, it can enable them to step away from their screens if they need to, as all trades are automated.
We offer our traders an incredible copy trading app, called AvaSocial, which enables you to copy the trades of more experienced traders after checking out their results and stats. 
Copy trading could be a good option for those who lack the time or experience to invest by themselves. For this reason, many brokers offer the facility of copy trading. There are a variety of platforms offering copy trading services, and while some are manual, others are fully automated. This enables you to sit back and watch the action on your browser or mobile device, such as that of the AvaSocial trading app.
Open a Demo account to practice what you've learned or a Real account to start trading today!
Advantages of Copy Trading
There are many advantages to copy trading, here we cover just a few:
First time traders can familiarise themselves with the financial markets and gain the confidence to trade
New traders can learn how to trade, by watching the actions of other, more experienced traders
Traders can participate in the market, even when they are too busy, and not able to invest the time and research they should normally devote to trading
You can copy trades on a huge range of instruments, including currencies, commodities, indices, stocks, and more
Form and take part in a community of traders, beginners and more experienced alike, where you can exchange ideas, strategies, and endeavour to improve your trades together 
Why Has Copy Trading Become So Popular?
Copy investing, or mirror trading has become very popular with investors worldwide, mainly because many early adopters have had enormous success and were able to boost their trading skills and profitability with zero effort. Copy trading enables novice investors to do just that. They don't need to know how to analyse the markets or how to interpret trading signals or indicators.
Novices are using other investors' abilities and thus increasing their own success rates. Also, copy trading can be used by experienced traders too, as a way of learning new trading strategies from others, and by that, increasing their success in the online trading market.
If you would like to start investing in the stock market but do not have a lot of experience, or you are a seasoned pro who would like to gain insight into the analysis of others, using copy investing/mirror trading could be an excellent place for you to begin.
Open a Demo account to practice what you've learned or a Real account to start trading today!
The Rise of Copy Trading
To begin we need to establish that there are two main types of traders, those who attend seminars, attempt to compile strategies, follow all market trends, and end up paying 'expert-trading-fees'. Then you have others that want to make money with as little input and effort as possible. For the latter, mirror or copy trading was created and has suited many as the perfect solution.
The growth of copy trading in the past 5 years has been exponential. The main reason is that many traders 'trust' this system and have a comforting feeling knowing that they are not trading alone. AvaTrade offers you access to popular signal providers via the AvaSocial app.                     
Copy trading is not only for the inexperienced, as a lot of expert traders also use copy trading as a means of market research. It saves time and could be part of a new strategy that can be implemented and potentially profitable (although not always).
Social Trading vs. Copy Trading
Copy trading is considered to be a form of social trading, but the two trading methods have some differences.
Copy trading ties up your account with another trader in that their positions are automatically replicated in your account. If they generate profits, you win; and if they lose, you do too. Copy trading is more passive because the trader does all the work you are copying. In most cases, the process is entirely automated.
However, some platforms and copy trading apps are semi-automated, as you are only limited to deciding which trades you wish to copy. Copy trading is generally ideal for beginner traders as it allows them to trade way beyond their level of experience or expertise. Some of the significant downsides of copy trading are that it inhibits learning, and traders can suffer losses if they follow unsuccessful traders.
On the other hand, social trading is a broader strategy that incorporates social media into investing. The focus is on the community, with traders able to interact and share and get notified of each other's trading activities.
Some of the features that a social trading platform may include are message boards and chatrooms to share trades and talk about strategies, and customisable social news feeds that update investors on the activities of their favourite traders. Other features of social trading apps, like AvaSocial, include comprehensive access to trader statistics, such as portfolio, risk score, personal news feed, as well as fail/success ratio.
Social trading allows investors to learn and contribute to the community. It provides access to numerous investing resources.
Both social trading and copy trading are useful trading strategies. It is, however, essential to select a strategy that suits your trading needs and preferences at any given time. AvaTrade offers a range of solutions, including its AvaSocial trading app and copy trading platforms. It is vital to select the one that meets your trading needs and preferences most.
Open a Demo account to practice what you've learned or a Real account to start trading today!
Who Provides the Trading Signals?
With AvaSocial copy trading app, you can thoroughly research the statistics and success rates as well as portfolio allocations of the people you choose to copy. This allows you to understand the quality of the trader and then choose to copy their trades and benefit from their experience.
Taking advantage of this trading strategy can be highly lucrative. In fact, many social traders, new and experienced, have had the opportunity to gain direct access to the top traders on the platform and have increased their trading success significantly.
How to Successfully Copy Trade
Here are the steps you should take to copy trade.
First, you will need to select a broker to partner with. Choose a regulated broker like AvaTrade that offers you security, a wide selection of assets, and dedicated customer support.
Now it's time to open an account on an automated trading platform. This can be done from your browser or mobile device just by downloading AvaSocial app. Here at AvaTrade, we also offer other well-known copy trading options, like ZuluTrade and DupliTrade.
Once your account is active, you will see a list of signal providers along with their stats. This usually includes P&L and risk profile. Select the person/people that best suit your objectives.
Copy Trade with AvaTrade
We offer you a good choice of some of the most well-established copy trading services on our AvaSocial trading app. We also collaborate with third party products like DupliTrade and ZuluTrade to offer you a choice of automated trading packages. In addition, we have  in-platform signals directly on our WebTrader and AvaTradeGo app, which enable you to see the latest valid trade notifications and follow them and their pre-set suggested parameters, like Stop Loss and Take Profit levels based on support and resistance lines, by clicking SELL or BUY.
Here are the products we offer:
A large variety of signal providers to choose from on our AvaSocal app
Copy trading though the leading ZuluTrade and DupliTrade software, which connects directly to your trading account
In-platform, live trade alerts on our WebTrader and award-winning AvaTradeGo platforms
Open a Demo account to practice what you've learned or a Real account to start trading today!
Copy Trading main FAQs
Do I need prior trading experience to engage in copy trading?

If your plan is only to follow and copy other traders, there is no experience required. However, it can be helpful in analysing and selecting a good trader to copy. In reality, it is often the traders with no experience who like to use copy trading. It can be a good way to begin growing an account, and if you take the time to analyse the trades being made by those you follow it can also be a very good way to learn about trading too. If you're a new trader and are worried about losing money with copy trading, you could always try it with a demo account first before funding your account.

 

Is copy trading too risky?

If you take the time to identify good traders to copy on the AvaSocial trading app, you aren't necessarily taking any more risk than when trading your own account. That is to say, trading is inherently risky, and there is always the possibility that you will lose money. Also, it's important to note that the past performance of a trader is no guarantee of their future performance, so even if they've been profitable for three years running, they could have their first losing week right after you decide to follow them. As always, never invest more than you can afford to lose.

 

How can I find good traders to copy?

While it might seem tempting to copy the trader with a 300% annual return, in general, these traders are probably taking on far too much risk and could eventually incur a loss     .       Look for traders who have at least 1-year trading history and a positive but not crazy return. The trader should also be active placing several trades per week. This ensures that they are trying to grow their trading base rather than just locking your money in a single trade. If you want to spread out your risk, you can spread out your copy trading between 2-4 different traders, as many users do on the AvaSocial trading app.

 
Open your copy trading account with AvaTrade today!